Current version is 1.5a2 with new encode-decode algorithm.
It works in the Internet Explorer 4-6 (7), IE4 for Mac, Safari 1.x and above, Opera 5-9, Netscape Navigator 4,6,7, Mozilla 1.7.x, FireFox 1.0-1.5, Konqurier browser.
It supports unicode and national chars and fully support inline javascript code.
Compressed page examples
Do you need PHP scripts encoder? Look here!
We are still working under HTMLZip second edition. It has GUI multifile processing and will work under MS Windows, MacOS X (MacOS 9), Linux/GTK+.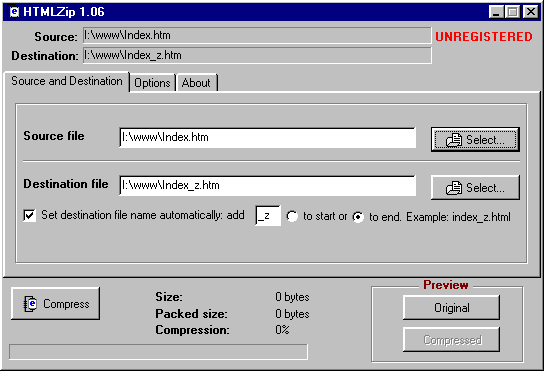 New features: encoding external JavaScript code (inline code already support) and text file converting to HTML with compression.
License policy will be changed too. ($49.95 per copy). Upgrade from version 1.x is free.
Site encoded by HTMLZip 1.06
Download HTMLZip 1.06 (old version)
Diamond And Brilliant as non software product
HTMLZip compression/decompression algorithm bases on LZ77 (LZSS) compression algorithm  with the some modifications to compatible WebBrowser/JavaScript.
Inline Javascript Code
This is a JavaScript code integrated into the HTML page. External JavaScript code placed in a separate file. Compression external JavaScript code will release in the HTMLZip 2.x